SOTO's MUKA STOVE wins the GOLD at the OutDoor INDUSTRY AWARD 2012!
SUMMER 2012, FRIEDRICHSHAFEN, GERMANY. SOTO's MUKA STOVE wins the GOLD at the OutDoor INDUSTRY AWARD 2012, the world's leading tradeshow for the outdoor industry. The Muka Stove was selected for its particularly outstanding innovation and design achievement from a total of 322 entries from 25 countries around the world. In examining the entries, the judges paid particular attention to the following: degree of innovation, design quality, workmanship, choice of materials, environmental compatibility, sustainability, functionality, utility, safety, trendsetting character and brand value/branding.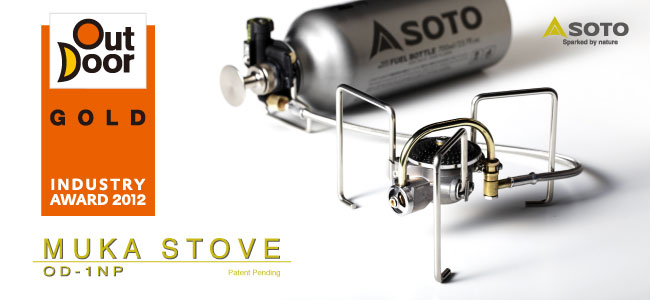 What the jury had to say:
"The Muka Stove is very easy to operate. Its design exhibits clean lines, is functional and reduced to the essentials. This perfect simplicity is immediately convincing. The manual value, which automatically preheats the stove, is a special feature."
→ See "OutDoor Industry Award winners 2012"

So, pump up the fuel tank, open the valve wheel and the flame ignites: a hybrid gas stove that doesn't require any preheating. The "Dual-Groove Drum System™" makes lighting the camp stove as easy as lighting an indoor gas range. The Muka Stove is equipped with a pressure gauge on the "smart pump" so that the user can see how much pressure is building up inside the aluminum tank. The small aluminum stand and a very flexible hose make the stove very ergonomic.

SOTO's 3-fold commitment to user-safety, user-friendliness and environmentally friendly design sparked by nature, has done it again with the Muka Stove.
To the top of this page